The Cardinal Chorale met again for the second day of our reunion. To show our appreciation for Coshocton Presbyterian Church hosting our weekend together, we performed a few our of pieces during the worship service. Shout to God, Give Us Hope, and Song of Farewell were sung better than they had ever been thanks to our rehearsal the day before. The Cardinal Chorale also collaborated with the church's Chancel Choir, Crusader's Choir, and Cherub Choir to sing Festival Piece on St. Anne. Lauren Johnson, a third-year member, had these remarks to the congregation:
When I mention the Cardinal Chorale, most of my friends' reactions consist of something along the lines of, "Oh great, she's talking about the Chorale again," or "What's even so great about this choir," and sometimes, "Shut up, Lauren. I've heard this story three times." I'll be honest, I had a lot of those same reactions when I first heard about the Chorale. But one day, after years of hearing these stories, I decided to go out on a limb. I signed up to audition. If everyone else was so amazed by this choir, I wanted in on it.

I decided that since I was going to join, I should probably go to one of the concerts first. I went, and I was impressed. And more than a little scared. I showed up to camp at the end of that summer, not even really sure if I should be there. One thought kept running through my head: "Am I even good enough for this?"

That all changed by the end of the week though. Within a few days, my life had genuinely changed for the better. I was becoming more confident and I was happier than I'd ever been before.

That's what the Chorale does, though. It changes all of us. It brings people out of their shells and puts them in an environment where they will be uplifted and empowered constantly.

The Chorale also helps bring people closer to Christ. When I heard This Is My Father's World at that first concert, the lyrics stuck with me, and I often think of them when I need inspiration. So let me be the example when I say, the Chorale's love doesn't only reach its members, it reaches all of the audiences we sing to, and our message sticks with them. And that's the goal, really. To spread Christ's love to everyone we meet, whether it be through our music, our actions, or even a smile.

We would like to thank you for allowing us to continue to spread this love, to our members, our staff, and our audience. The support we receive from this church every year is very much appreciated. We would also like to thank you for sharing your minister of music with us. Without Mr. Snyder, none of this would be possible. Thank you for enabling us to share Christ's love for 23 wonderful years. May we spread this love for many years to come.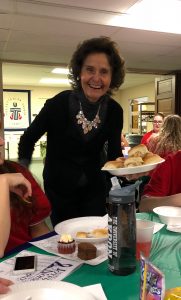 After a lunch of classic shredded chicken and pulled pork sandwiches (along with too many cookies to comprehend),the team returned to rehearsing for our performance at the Ohio Music Education Association's Professional Development Conference. On February 10 at 12:30 pm, the Cardinal Chorale will be performing in the Columbus Hyatt Regency's Room. The public is welcome free of charge.
Though we will see each other soon, it is always hard to say "goodbye" to our fellow singers. But we know the work we did during this reunion will serve us well in continuing our mission of hope at OMEA.