Members started off the day by going running, doing yoga, sharing devotions, or simply getting extra rest. Our breakfast this morning was very special – birthday cake pancakes! After eating our delicious breakfast with our opera, we headed off for and started sectional rehearsals. It was easy to hear several of the pieces have come a long way already. During our break in sectionals, assistant conductor Beth Vaughn showed the ladies some yoga poses since she is certified to instruct. She showed us poses such as the tree pose, pigeon, and crane, to which staff member Matt Downing responds "I like to do the turkey, which is where I sit down and eat a turkey sandwich."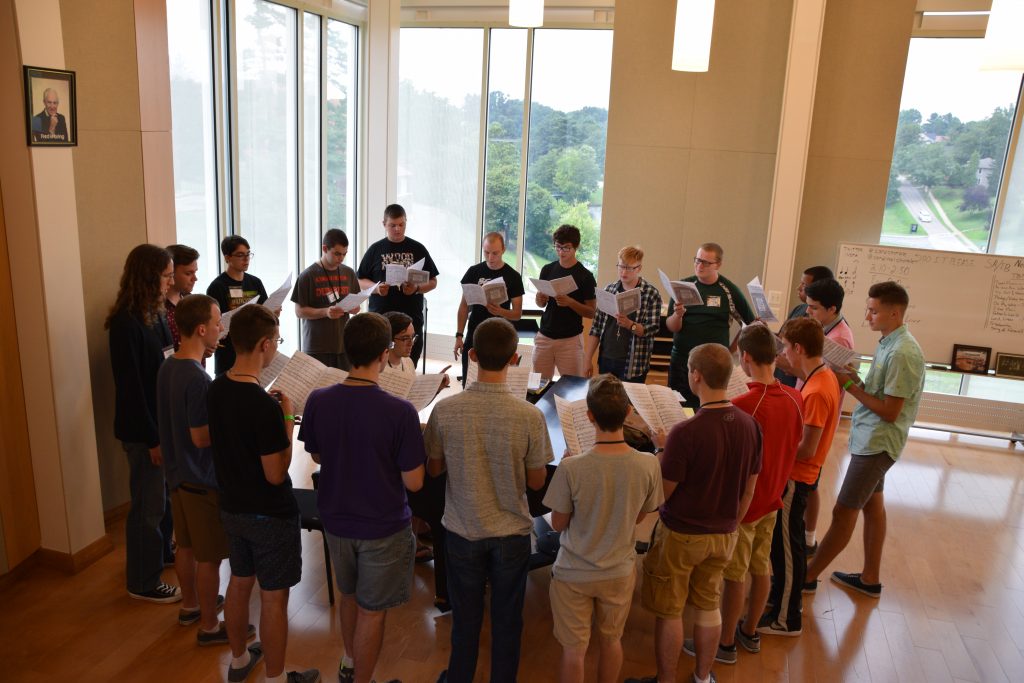 After a bit more rehearsing, we set off for a delicious lunch with options such as ravioli, curly fries, and several delectable desserts. Lunch was followed by our last day of our three-day seminars. Chorale members learned a lot this week in these classes. Then we were off for short part rehearsals. Sometimes, if a part rehearsal is finished early, stories and funny videos may be shared.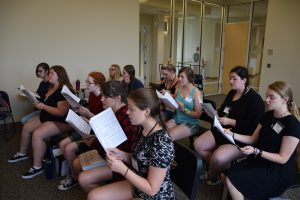 Another quick rehearsal with the full group proved that the Chorale has made a lot of progress this week on many of the songs that were very hard before. As a bit of a reward and a chance for some people to catch up on sleep, the staff offered us some "FOB" or "flat on bed" time instead of rehearsing before dinner. This means we have to be on our bed resting or studying our music so that we can get the rest we need to continue to sing well.
We then went to dinner rested and ready for another great rehearsal afterward.In fact, it had to be the best full rehearsal we've had yet! Things really start to be coming together.  To help rest our voices during the rehearsal, we also listened to a few recordings of various choirs, including a previous version of the Cardinal Chorale. They were all amazing!
Then came the final event of the evening – the CoshocTONES performance! This is a group of four singers (Heath Chaney, Andrew Hall, Donovan Rice, and Luke Widder) who were brought together by a production of "Forever Plaid" at the Triple Locks Theater in Coshocton. They have been performing various places ever since. They came here this evening to perform a few of their favorite tunes for us, which was outstanding and very entertaining! We are so glad they came to perform and spend the evening with us. Now to go rest up for our last full day here at Workshop.