Twitter: @CardChorale
Instagram: cardinalchorale
Facebook: The Cardinal Chorale
Getting Closer to Home: From Fostoria to New Concord
Wednesday, June 21, 2018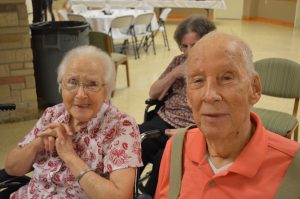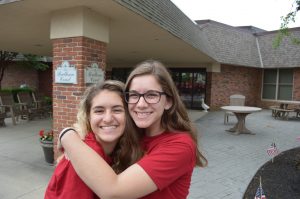 This morning we met for our morning Chorale Circle and boarded the coach on our way to Good Shepherd Home, a care center in Fostoria. We were provided an amazing spaghetti lunch after performing for some of the residents, and were presented with a drawing from a resident who is celebrating the 70th wedding anniversary with his wife (pictured to the right). From there we embarked on our three hour drive to New Concord. The women of College Drive Presbyterian Church at Muskingum University provided us a wonderful dinner. Powering through the heat, we were able to sing an amazing concert in the beautiful sanctuary. It was nice to be back with such a welcoming audience after having sung for worship the previous summer during Workshop.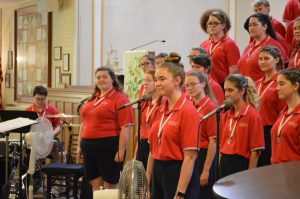 When asked how it felt to sing in a nursing home, MaryBeth says: "It was a very surreal experience just to be able to connect with people who don't get a lot of human interaction from day-to-day.  It just felt like we were doing a lot of good in the world and that's really what the Chorale is about."
Logan, a baritone in the Chorale, says: "It felt refreshing. It's really nice to see all of the warm smiles that we bring to people. It's also really nice to get to know the residents and see how excited they get to talk to us."
The Cardinal Chorale: Choral Ambassadors of Hope, giving older generations hope for the future.
@crsdailythought:

"A good laugh and a long sleep are the two best cures for anything."

-Irish Proverb (as quoted by Snoopy)
By Lauren Johnson