The Cardinal Chorale has had an amazing week so far and our music is really starting to come alive and we all felt it during our rehearsals today. The day started with an amazing breakfast consisting of amazing foods such as potatoes, eggs and our all time favorite chocolate chip pancakes. The Chorale had the chance to sit with their opus (small group) and have some great morning conversation.
Matt Downing did an amazing job with our morning warmup before rehearsal, getting our voices prepared for what we would all agree to be the most stressful day on our voices. He then led us in some physical movements to get us more alive and alert for our sectional rehearsal today.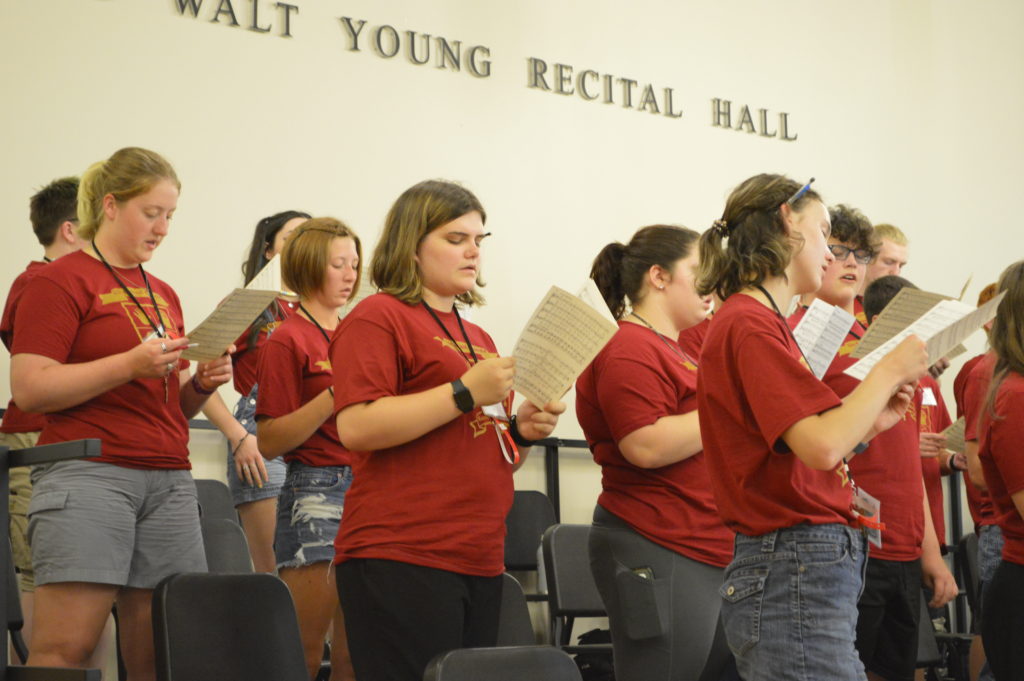 Sectional rehearsals were a great way to really strengthen all of our pieces, especially the TB- and SA-specific pieces. The soprano/alto favorite so far is Go 'Way From My Window. The sectional rehearsal helped us to focus on what we needed to work on and is what truly brought out the musicality in our pieces today. After a long and hard working sectional rehearsal it was time to nourish our bodies with some lunch. After our meal, we attended our various seminars as a break from rehearsal for a little while.
The afternoon was filled with more rehearsal and before we knew it, it was dinnertime. After another delicious meal, it was time for full rehearsal with the whole choir. The Chorale was so focused during this hour and a half that we had time to do a whole other set of music and still have time left over. The focus today is really what moved us in the right direction and made our music sound absolutely awesome. We ended our evening with a really helpful voice technique seminar by our very own staff member, Chad Putka. The tips he gave us are really going to take our music to the next level. We ended the night with our Chorale circle where we reflected on the day and had a chance to say goodnight to everyone before we went to bed and rested our bodies for another awesome day of music making. We can't wait for tomorrow!