We are officially past the halfway point of our time together on Muskingum's beautiful campus, and our hard work is really beginning to pay off! The classic sound of the Cardinal Chorale rings through the air as we start to work on the technical details in the music, moving beyond the realm of just singing the notes on the page. It is truly thrilling to hear how much the sound has changed in just a few days. The new members are picking up on the music so quickly, and are even already starting to rehearse songs by memory. We cannot wait to see where the rest of this week takes our group.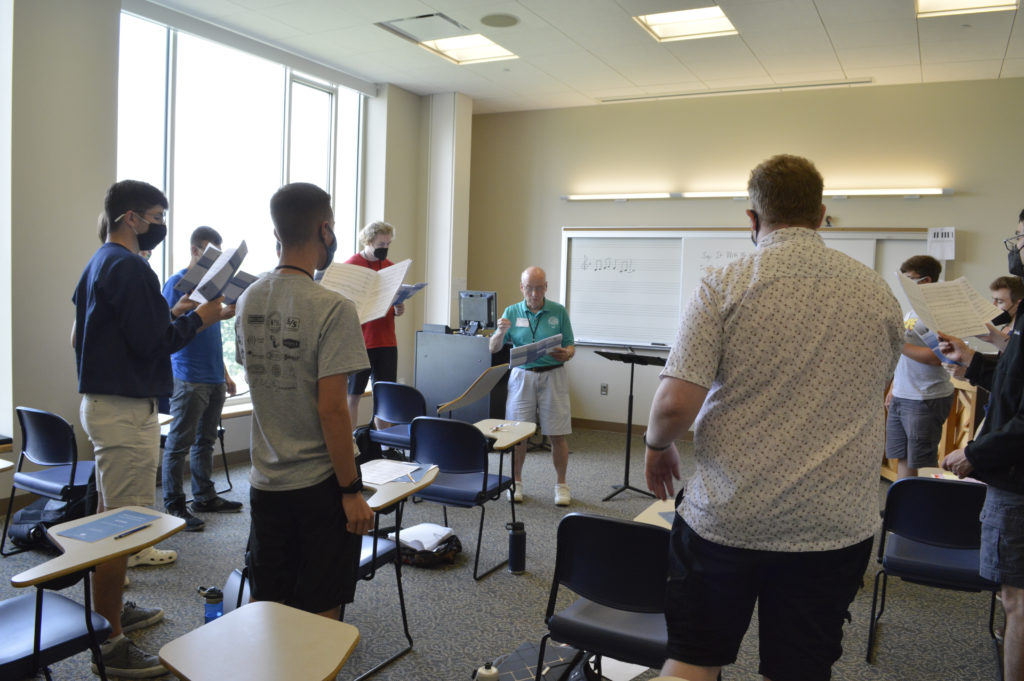 Once again, we started our day with optional Morning Mindset activities; devotions, disk golf, and just for a limited time only, yoga. At breakfast with our opus, we discussed how to be intentional with our rehearsals moving forward with the second half of the week. We all enjoyed talking and laughing with one another, but also reminded one another to save our voices for the intense few days ahead of us. After breakfast, we moved to sectional rehearsals to warm up and work on our emotional storytelling of the beautifully written music.
During our first full rehearsal of the day, we were introduced to two of the music department's faculty members, Dr. David Turrill, the music department chair, and the university's new choir director. Dr. Turrill gave prospective Muskies some information about Muskingum as a school, and some Chorale members and staff who attended Muskingum also shared their perspectives on what makes Muskingum a special place. The choir director also worked with the Chorale on George F. Handel's "Hallelujah, Amen," giving us yet another helping hand on the path to our performance. Many thanks to these two for not only sharing their time with us today but also for sharing their campus with us throughout this entire week.
After a delicious lunch, we had elective sessions which included a barbershop a cappella course, a phone-photography lesson, a crafting competition, or a trip-planning elective. The crafters made semi-efficient mini marshmallow catapults, while the photographers had a photoshoot and took their time to carefully edit the final pictures. The electives are a great way for us singers to spend an hour doing something different than rehearsing, which is greatly enjoyed by all the members. We had a great time comparing pictures, showing off barbershop chords, and planning our dream vacations when we all came back together for rehearsal later on.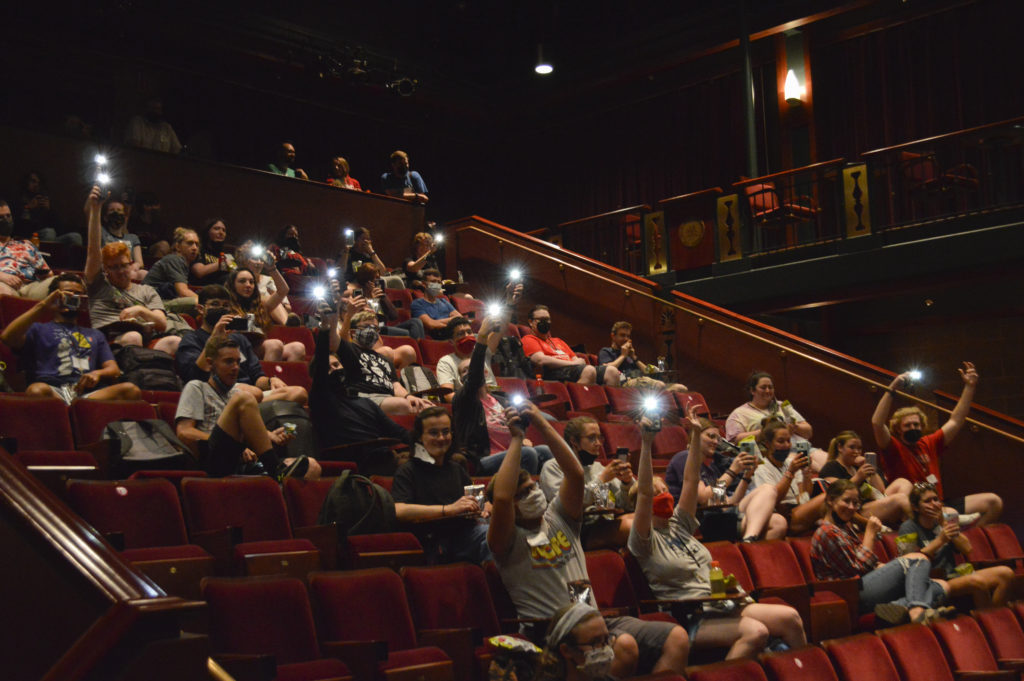 The rest of the afternoon was full of both part rehearsals and full group rehearsals, solidifying all that we have learned thus far about the stylistic choices we make for each specific song. It was a hot day in the tent, but we all worked very hard to create the best music we possibly could. It is exciting that we are able to really get in touch with the emotional side of each piece as we learn and memorize them better. Time will only tell what the 26th edition of the Cardinal Chorale can achieve, but we have a very solid start on a fantastic repertoire for this year.
For our Wednesday night activity, we were invited to kick back, relax, and enjoy a movie with our friends both new and old in the Caldwell Hall theatre. We laughed our way through Sister Act 2: Back in the Habit, a Matthew Downing and Erin Jobes favorite. It was a real treat to be able to lose ourselves in the story and sing along to the music without worrying about anything else for a bit. The rest of the week will be a whirlwind of intense music rehearsals, so it was much appreciated to have a little time off to just enjoy each other's company. Even though it was a later night than most, no doubt the group will be up bright and early in the morning ready to start the new day.
---
We are very proud of what we have accomplished so far this week, and are even more excited to see how much more we will improve these last few days of workshop. Our staff has done an amazing job keeping us encouraged and optimistic while we work, and you can help too! Send your favorite singer an e-postcard while they're away by using the link to the right (also found on the Chorale website's homepage). We love getting mail and it's a great way to keep us motivated throughout the long week. We thank you for all your support and we look forward to hearing from you as much as you look forward to hearing us!