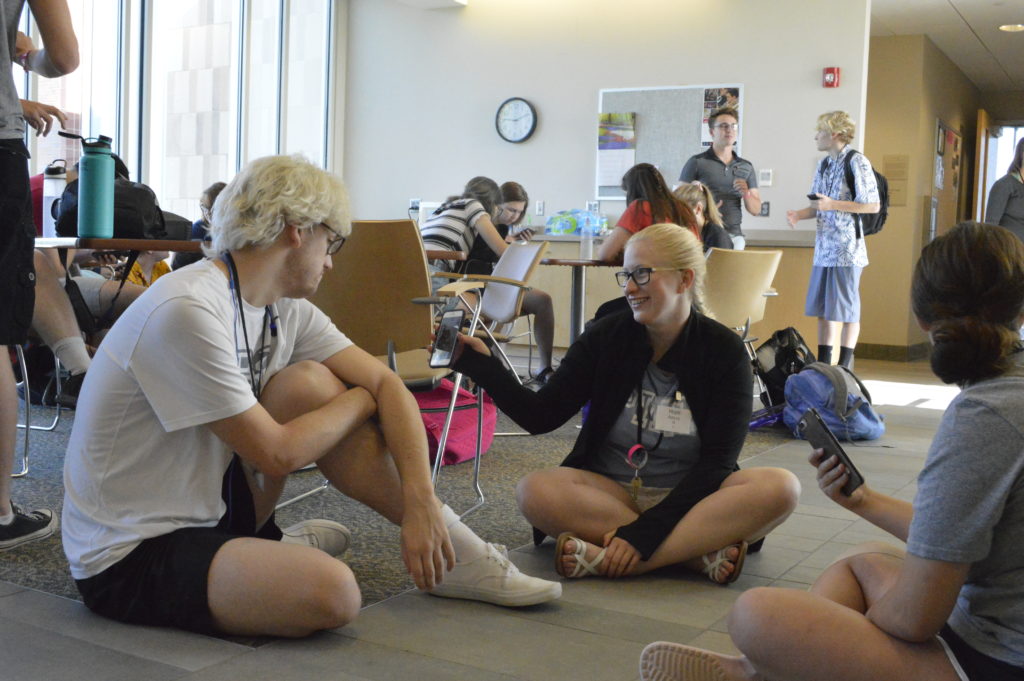 Today is the halfway point of the Workshop, everyone! We started our mornings bright and early yet again today, replenishing our energy levels with a delicious breakfast. Singers were especially excited to have chocolate chip pancakes! Many staff members also gave their opus members challenges to complete throughout the day. One of the challenges of the day was to hug as many people as possible. Sectional rehearsals went smoothly as we continued to work on some of our favorite songs. But before we knew it, it was lunchtime! It was Taco Tuesday, and though many people said they were not even hungry yet, it was hard to not go back for second helpings.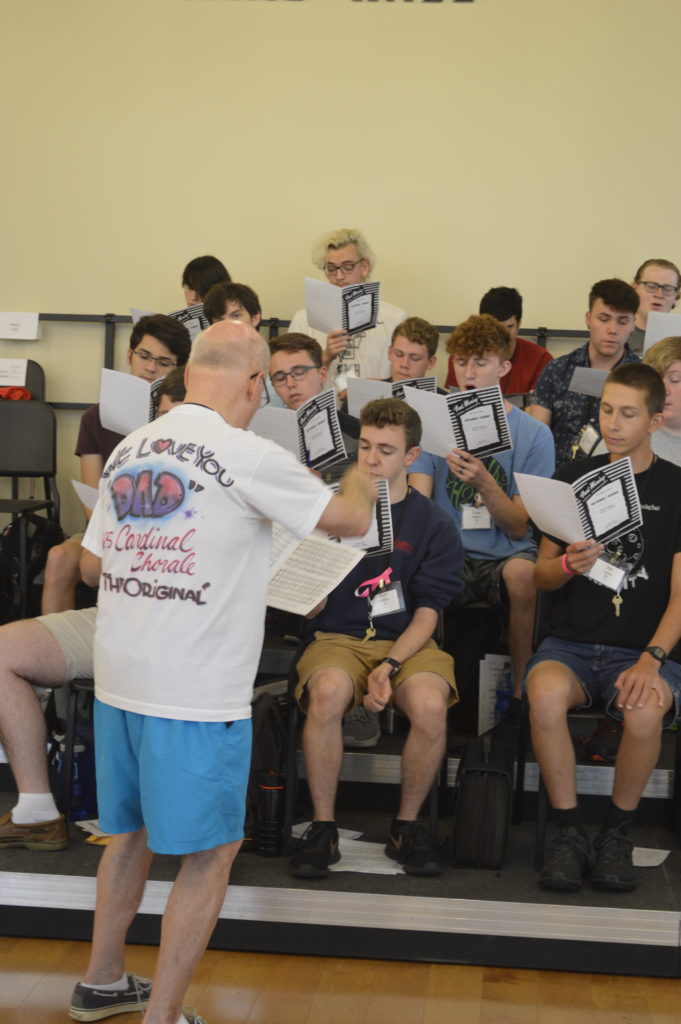 Seminars continued today, so singers learned more about things such as different instruments, how to edit videos, and their Enneagram types. Part rehearsals followed seminars, where we worked on some tougher pieces. The sopranos especially look forward to part rehearsals as they often have time to share funny stories during our break.
Our first full rehearsal of the day went well, going over several things that needed polished or changed. Ryan and Michael even gave a presentation on the best ways to hug – and how not to hug. Dinnertime came almost as quickly as lunch had! The singers have definitely been sensing how quickly these days full of singing go by here at the Workshop. For dinner, each person is assigned a couple staff members to sit with so as to mix up the groups of people sitting together so everyone has a chance to meet new people. We sometimes call this Chorale tradition "forced mingling."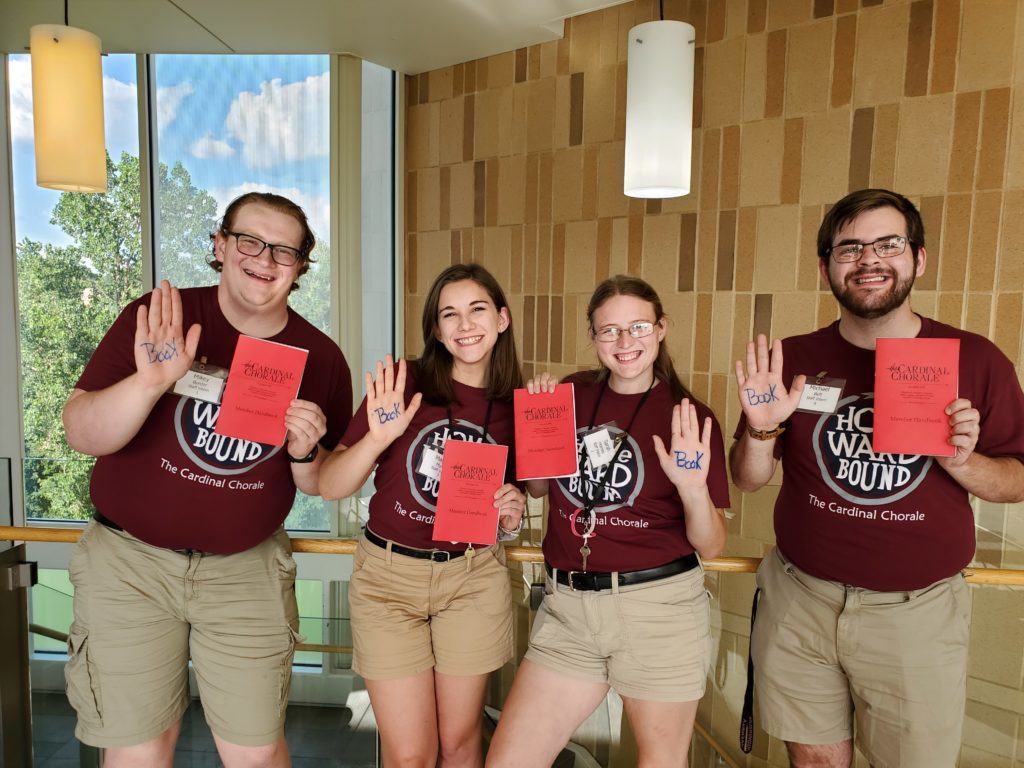 And then, it was… HANDBOOK TIME! At the start of full rehearsal after a lovely meal, the staff interns led everyone in a very special reading of the Chorale handbook. Full rehearsal is always a favorite of many singers because it is a great time to hear how everyone is working together and how we are improving.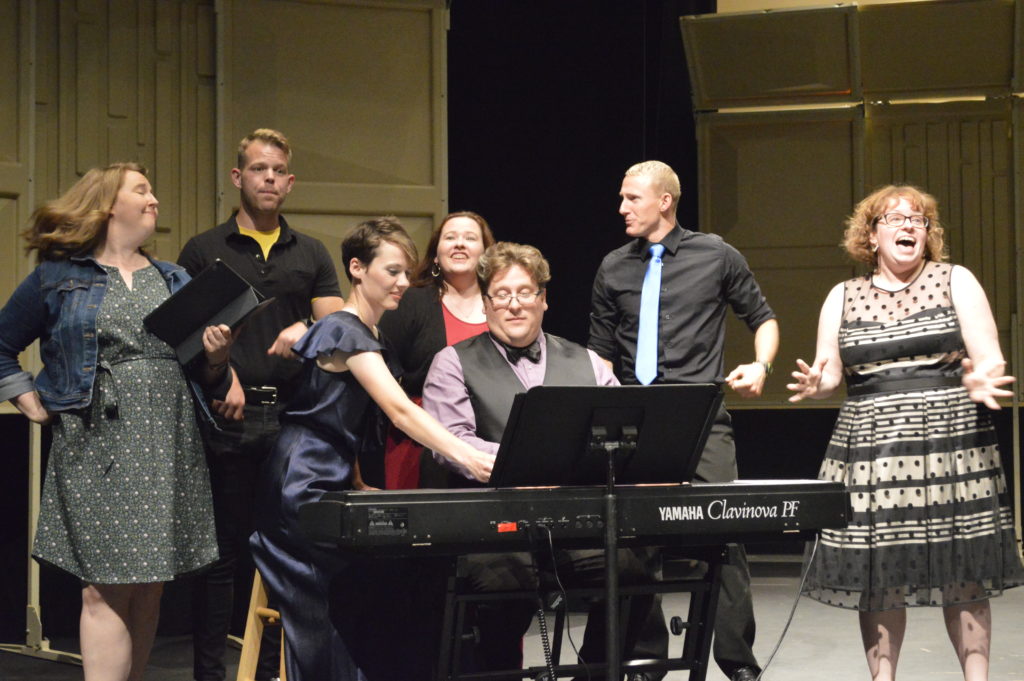 Today was also picture day! So after a great rehearsal and a lively photoshoot, singers made their way over to Caldwell Hall for the Musical Theater Showcase, a performance by six of our staff members. The Chorale had as much fun listening and singing along as the staff did performing. In Chorale Circle afterward, many people shared how much the performance meant to them and how fabulous of a job they did. Many people tonight also mentioned the fact that we are now halfway through Workshop, remembering that our time together flies by very quickly and we should appreciate every moment we have together.